Famous for their unique and playful signature sushi rolls, Hatsune is the original California-style sushi creators in China.
And with over half of the sushi rolls listed on Hatsune's menu already named after and created by their die-hard, loyal customers over the years, they know that their sushi lovers are as crafty as they are insatiable. Hatsune doesn't like playing by the rules because as long as the ingredients are attainable, anything is fair game. The biggest limiting factor is really only your imagination when it comes to creating your ultimate dream sushi roll.
"Since Hatsune first opened over 14 years ago (in 2001), we've built a tremendously close community of sushi addicts whose opinions we respect, feedback we value, and for successful sushi ideas that have come to them over the years, we also give due credit, rewarding each with name recognition on our menu every time they came to us with their own dream sushi creation. Some of our most popular sushi rolls are dedicated to our valued addicts – from the Moto-Roll, Pastor Roll, Clayton Roll and Amy Roll, these are all real addicts who either created or inspired these creations."  – Hatsune
Hands-On Learning at Hatsune Kerry
Though we all undoubtedly have our favorite Hatsune sushi rolls, I'm guessing that at some point (most likely while munching your way through a table full of sushi bites), you've either wished you could tweak an already existing roll or dreamed of creating your own masterpiece. To help their sushi fanatics build both experience and a desire to experiment, Hatsune started hosting annual sushi making classes at their venue so that anyone and everyone could learn the proper techniques of sushi rolling.
My Masterpiece Sushi Roll Creation – The LumDimSum Roll  
Scallop Sashimi and Seaweed Salad topped in a layer of avocado and Maguro sashimi and a sprinkle of black caviar
Hatsune's Sushi Master Alan-san and Executive Chef Yan will share Hatsune's most precious secrets behind their legendary sushi rolls and they will provide each participant with their very own take-home sushi kit with all the essential equipment you need to start making your own sushi creations in the comfort of your own home!
Get hands-on by learning the fundamentals of becoming a sushi samurai and try your hand at the highly respected and admired skills of sushi rolling (trust me, it's harder than you might think).
Owner of the Hatsune Restaurant Group, Master Sushi Samurai Alan-san will host the next sushi making dinner party at the Hatsune Branch in KERRY Center (see address below).
Price per person is RMB 300 which includes your sushi making class, all the tasty sushi ingredients provided to use at your disposal, dinner bites and the essential equipment to start making sushi at home!
Hatsune's Sushi Making Class Event Details:
Date: Thursday, September 10, 2015 (CH) + Friday, September 11, 2015 (EN)
Time: 7:00PM-9:00PM
Price: RMB 300 per person includes class, materials and dinner 
Location: Hatsune @Kerry
Address: B31 Kerry Center Shopping Mall, Guanghua Lu Rd, Chaoyang District
Chinese Address: 朝阳区光华路一号嘉里中心商场地下一 B31

RSVP E-mail: kristen@hatsunesushi.com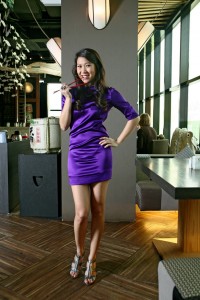 About Kristen
Kristen Lum has an accomplished background in PR, communications and events in China. Born and raised in California, Kristen has been based in Beijing since 2006 and is founder of the lifestyle  blog called LumDimSum, covering mostly restaurant news and reviews alongside upcoming events around town that relate to Beijing's muti-faceted, quickly-developing creative industries like art, music, film, health and fitness, fashion, nightlife, charity events, and travel tips.