So many places, so little time. So I have put together the ultimate California road trip because you could drive Highway 1 for a month and still not see everything there is to see. Just the scenic views along the coast will slow you down. The rugged cliffs and effortless beauty on the edge of the west coast is one of those places you have to see for yourself, but deciding where to stop is never easy and while you won't be able to stop and see it all, there are never wrong choices.
Since it is a whirlwind trip with lots of pit stops I decided to pin point key 'musts', even if you only have 12 hours.
San Diego
First stop was a goodie as we were ready for some Californian sunshine.
Eat: Downtown is the obvious go to spot for grabbing a bite to eat, but having just got of the plane from New York and wanting some fresh seafood that didn't cost an arm and a leg, I found a cute neighborhood joint called Ceviche House in North Park. Straight from the ocean that day, the servings were well sized and very well priced.
See: A sucker for animals, I would say head to La Jolla early in the morning and watch the sea lions and seal slowly wake up from the waves crashing in on their sleeping rocks. They are very mesmerizing animals to watch.
Do: Go to the beach and ride a bike down the promenade. We headed to Mission beach, rented beach cruisers and sipped milk shakes at sunset.
Laguna Beach
My favourite, favourite, favourite place to visit is Laguna. I feel like a local because we have good friends who always tell us the best places to go and eat. It has the charm of a sleepy beach town, but enough hustle and bustle to satisfy this New Yorker.
Eat: I almost don't want to mention this place simply because I don't want too many to find out about it, but, fine, I will. Now I have never been to Japan, but San Shi Go, hands down, is the best sushi I have eaten. And you must sit up at the bar.
See: Now lets be honest, you go to Laguna Beach for the beaches and boy do they have beaches! There is main beach where the couple of hotels sit on and then small coves peppered all way down south. They are all named after the streets they fall off so pick a block and explore. I love Thalia and Oak Street beach.
Stay: I am lucky enough to stay with family friends every time we head to Laguna but Le Montage is the epitome of Laguna Beach if you ask me. If you cant stay there, at least try get a cocktail on the balcony for sunset. I also say AirBnb is perfect for this beach town. There are some very cute cottage-like places (spread among the mansions of course.)
Big Sur
Even after hearing people rave on about Big Sur did I not quite understand just how breath taking it was going to be.
Eat: Everything in Big Sur is priced at a premium, so there is no point driving around looking for a better deal. Nepenthe, known for it's magnificent views certainly did not disappoint at sunset for dinner. Everyone stood still for a good half hour watching a fireball drop off the face off the Earth as the day ended.
See: We somehow arrived at McWay Falls just in time for 'golden hour', the perfect time in terms of lighting for photos. You would be silly to disregard this pit stop. The emerald green water is really something you must see with your own eyes.
Stay: If you come to Big Sur, sure you could stay in one of the luxury ranch-style lodgings, or you could camp! On any other given day, luxury ranch-style would have won out, but I really felt that camping amongst the thousand old Redwoods was a once in a lifetime opportunity. There are many campgrounds along Big Sur and many can be booked on the day.
Camel by the Sea and Monterey
These two places are only a 15-minute drive from each other, but could not be more different. Carmel is an enchanting village straight out of a children's fairytale and Monterey is a sleepy fishing city with great seafood. Neither, one better than the other, but rather a great two-for-one deal along the coast.
Eat: After reading many recommendations for Dametra Café and finally getting there, we politely declined and decided to take a walk around and see what else was on offer in Camel-by-the-Sea. We stumble across La Bicyclette, a cozy French-Italian bistro. It was the cute French bike outside that sold it for me. I had a wood fire pizza, to die for, and a glass of red wine, Californian of course, and enjoyed every last mouthful.
See: I highly recommend a visit to the Monterey Aquarium. Not only is it the setting for Finding Dory, but also the Jellies exhibition is hypnotizing.
Stay: I love stumbling upon great cheap hotel stays last minute and Cannery Row Inn in Monterey was one of those cases. Thrown off by the word 'inn', I was pleasantly surprised when we checked in to this hotel. Our room was very nice with large wooden beams that made it feel like a wood cabin. The bathroom was also very modern and clean.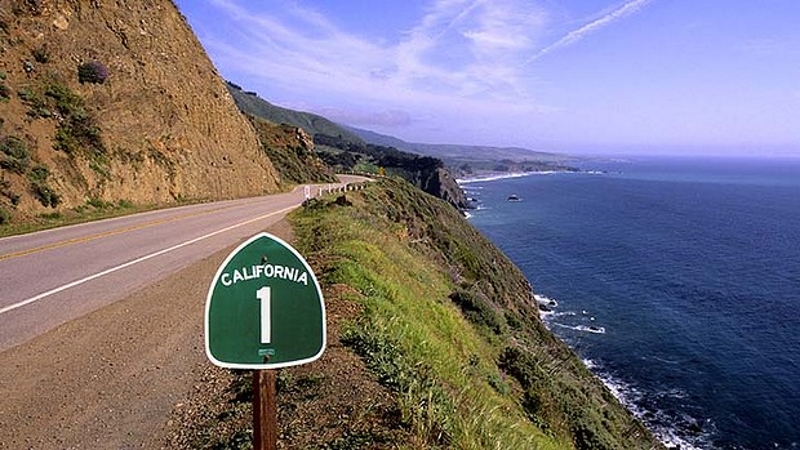 San Francisco
SF, as the locals assure me it's called, is definitely New York's younger, cooler, hipper sister, but not cheaper. It's actually cheaper to live in Manhattan, nowadays, but then again SF's got great weather year round so there's that. Narrowing this down to a handful of options is tough.
Eat: Souvla is a casual daytime eatery with a minimalist but delicious menu. All you need to choose is pork, chicken, lamb or veg and whether you want it in a sandwich or salad. Just make sure you save room for the Frozen Greek Yogurt with Baklava Crumbles and Honey Syrup because you will be kicking yourself if you didn't.
See: I know it's touristy, but that view from the top of Lombard Street is out of this world at the right time of day. Take a walk around the area of Russian Hill to see the beautiful homes and workout those calves.
*Drink: A little extra in here for you! Trick Dog. Just trust me on this one. They change the menu and theme almost monthly in this converted warehouse bar.
Stay: You know how I said SF is the younger hipper version of NY, well Clift Hotel fits right into that scenario. While steeped in culture and history, Clift is a trendy home away from home and a real-life Alice in Wonderland adventure all in one right in the heart of Union Square.
I hope you enjoyed the ultimate California road trip and if you have other suggestions please share them with our readers.
Herstory is a weekly column on women and travel by Steph Ridhalgh. Steph is a Sydney born; New York based television producer and travel blogger. Not one for being quiet for too long she simply loves talking about travel and lifestyle.
Steph is the founder of STEP(h) ABROAD, a travel and lifestyle resource for those who love to be in the know and know how.