Here's a strange story from San Francisco. Authorities are reporting that a 17 year old American citizen mysteriously jumped up shortly after a Copa Airlines flight from Panama touched down at SFO, opened an emergency exit and deplaned via the wing in a an act which was worthy of an action film. This is definitely not the best was to exit a plane even if you're in a hurry 🙂
The teenager who has not yet been identified was quickly detained by constriction workers on the ground who held him until authorities could arrive.
Passengers said the teenager seemed fidgety and anxious throughout the flight and that he had acted very quickly, making it difficult to stop him, according to the Associated Press news agency. Local news reports soon lit up Twitter.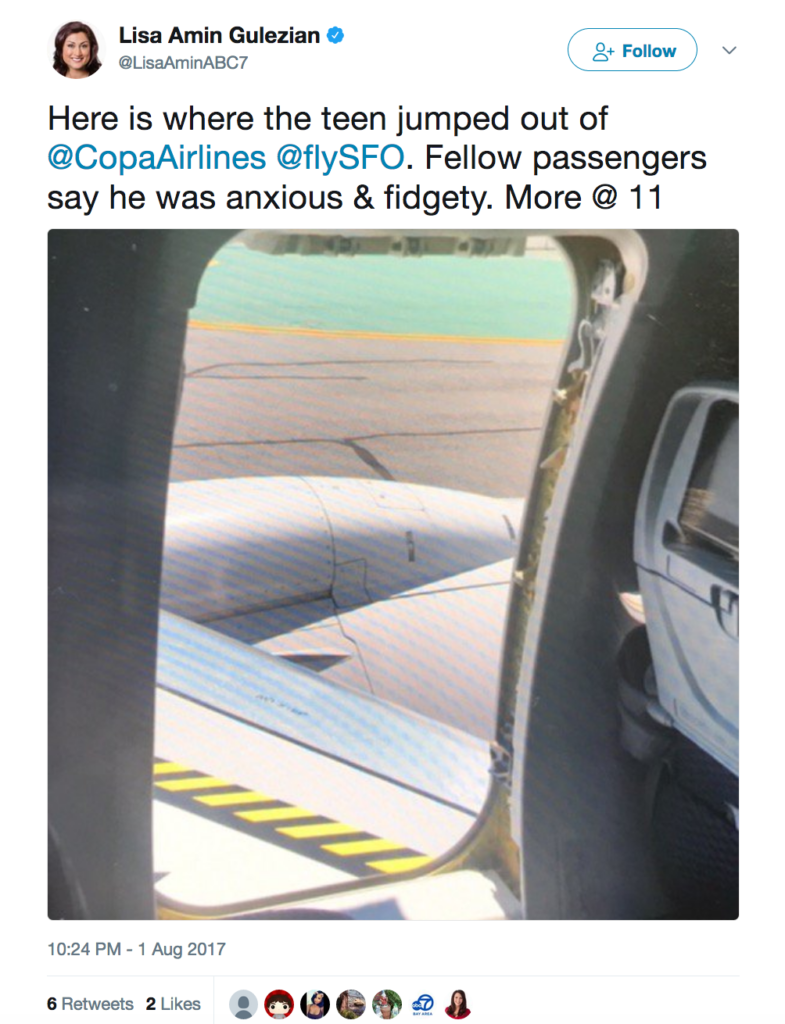 The teenager was unharmed however there has been no official confirmation why the teenager leapt from the plane.
San Francisco Airport spokesman Doug Yakel said the boy was traveling alone, adding that no runways or flights were affected by the incident.
One eyewitness, Sophia Gibson, told San Jose's KNTV that people were shocked when the passenger leapt through the door and onto the plane's wing.
"It was as if he was like flying out, like it was really fast," Ms Gibson said.
Copa Airlines said in a statement that over-wing emergency exits are designed to be opened by passengers after the plane reaches a lower altitude to allow for an evacuation in case of an emergency, but it is a federal law violation to open them without having been instructed to do so by the crew.
A Copa Airlines Flight 208 crew member closed the emergency door and the plane taxied to its gate, where all remaining passengers alighted without incident, the Panama-based airline said in a statement on Tuesday.
The airline added that an investigation was under way and that it was co-operating with the authorities.
We know deplaning can be an exercise in patience but we don't recommend exiting this way.